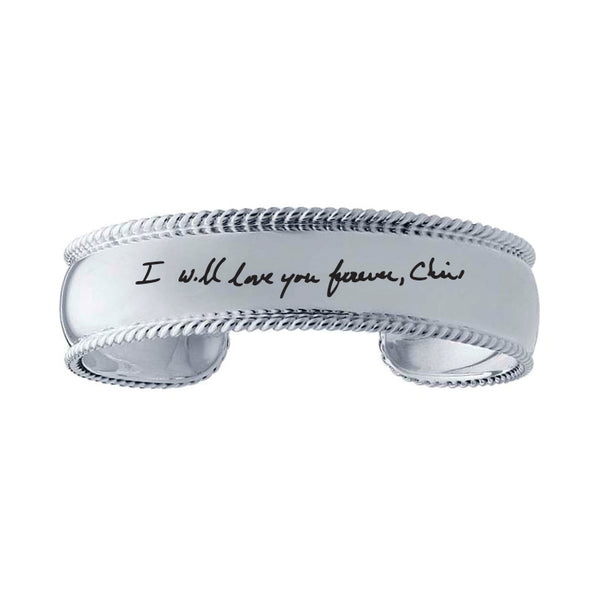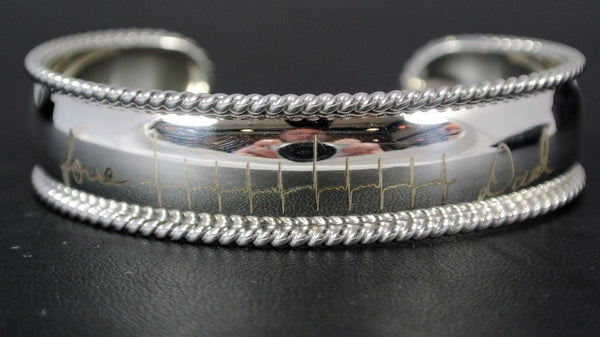 Engravable Sterling Silver Rope-Edge Cuff Bracelet
Free Shipping to US - including Hawaii & Alaska
Create a special keepsake bracelet with a child's or family members' heart rhythm, handwritten message, or soundwave for yourself or someone you love.
A slightly convex form and raised rope-edges give this sterling silver cuff bracelet eye-catching depth and texture.
How to Order
Upload your file using the "Choose File" feature above. We accept scanned images, photos, and sound files.
If you are scanning an image, please scan at the highest resolution for the best quality engraving. 
If you are sending a photo, take the photo by centering the image on the phone screen as best possible. *Please be aware: older images with light colors or discolorations may not offer a crisp finished look.*

Heart Beat Engraving: Upload your file using the "Choose File" feature above. 

Handwritten/Drawn Engraving: Upload your file or image using the "Choose File" feature above.

Date Engraving: Please provide month, day, and year and select your preferred font style.

Longitude/Latitude Engraving: Enter street address, zip code, and select your preferred font style. We'll find the coordinates to engrave.

Initials with Heart Engraving: Carefully type the initial(s) EXACTLY as you want it to appear on your product and select your preferred font style. For this item, we use upper case letters. The first set of letters will be on the left and the second set on the right.

Product Specifications
Metal: Sterling Silver
Karat/Purity: 925
Size: .50" (W) x 2.50" (L) or 12.70mm (W) x 63.51mm (L)
Weight: 20.304 g (0.716 ounces)
Finish: Polished
What could be a better way to express your individuality or give a truly unique gift than with personalization?
We're Here to Help
If you are unable to upload a file above, please email us the file and indicate the item you purchased in your email.
On occasion, we may need clarification about your order.  If possible, we encourage you to provide alternative contact information such as a mobile or home phone number.  This allows us to minimize delays in shipping your item.  Orders ship in approximately 3-5 business days.
For questions about this product, other options or our process during checkout, please reach out to us for assistance: We are open (Monday - Friday 10AM - 5PM) & (Saturday 10AM - 2PM) central time.  If you happen to be in our area, please visit us. Our address is 102 North Court Street Florence AL 35630. Thank you for choosing Mefford Jewelers!  We look forward to seeing/speaking with you soon!
Store: 256.275.7030
Email: russell@meffordjewelers.com
---